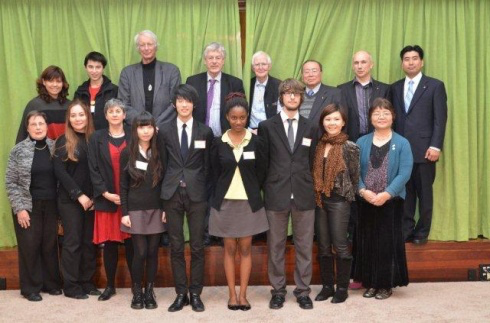 International of New Zealand hosted a peace education forum under the theme "Humanistic Education – Creating Value in Today's World" at its Auckland Culture Centre in Ellerslie.  The forum was attended by about 400 people.
Among the presenters at the Forum were Daniel Sasaki from Soka University of Japan, Professor Kevin Clements from the National Center for Peace and Conflict Studies at the University of Otago, pioneering NZ peace activist Reverend George Armstrong  and Auckland City Councillor Richard Northey.
Soka University lecturer Daniel Sasaki gave the keynote address on Soka Education, which included the history of the Soka Education, its philosophy as well as anecdotes about its founder, SGI President Ikeda and students.    At the question and answer session after the address, a question was asked about how the Soka Schools were able to create a culture of respect in the schools which distinguished them from other schools.  Daniel Sasaki explained that this was not always the case, but through time, the founding spirit of always cherishing students grew to permeate the schools' culture, particularly through the strong direct bonds between SGI President Ikeda and students.   In response to another question about how common citizens could effect change in New Zealand's education system, Daniel made the point that it is important that the people grassroots keep trying, and referred to NZ's anti-nuclear history as a successful example.
After the keynote address, the distinguished guests took turns to speak.  Councillor Northey gave the audience a brief account of social activism in Auckland leading to its Peace City declaration this year and shared stories of participating in anti-nuclear and anti-apartheid movements in his youth, saying  "[NZ's success in these areas] was possible because the consciousness of ordinary people were raised through education".
Rev George Armstrong expressed his admiration for the SGI's philosophy of value creation and the history of its founder in confronting authoritarianism.   He humorously shared the story of how the idea to start the Peace Squadrons came after observing 2 individuals in two small canoes protesting against two big freights of illegal weapons on a trip to the USA.  He drew laughter from the audience when he said "I was probably a thought criminal too!" (in reference to Mr Makiguchi).
[Note:  Rev Armstrong established the Peace Squadrons in the 1970s, i.e. a flotilla of small boats and canoes to ban US nuclear warships from entering Auckland harbour at the invitation of the Government of the day.  This is considered to be the starting point of NZ peace movement.]
Prof Kevin Clements gave a thought-provoking and insightful lecture on peace education, an area in which he is personally interested in. "What schools could do is to increase reality based optimists'"., he said.  Referring to French philosopher Levinas and the work of peace academic Lederach, Prof Clements concluded that a crucial part of education is to accept unconditionally the responsibility for others and that the process of face to face engagement with others enables us to overcome our selfishness.  "In an interdependent world, we cannot afford to have narrow circles of compassion…To advance species identity is what it means to be human" he said.
SGINZ also launched the newly established Arts Division at the forum, with lively entertainment from the group.  SGINZ General – Director Jimi Wallace also announced SGINZ intention to launch iChoose, a musical initiative to address bullying in schools in 2013.
Guests enjoyed viewing the "Seeds of Hope: Visions of Sustainability, Steps Toward Change" exhibition after the forum.