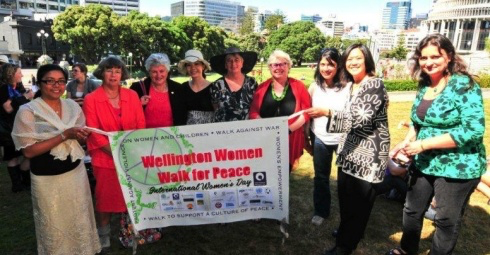 In celebration of this year's United Nations International Day of Women on 8 March, women from different religions and diverse beliefs, from different ethnicities and cultures joined together for the Wellington Women Walk for Peace event, which comprised a lunchtime Peace Walk through the city of Wellington and a Peace Celebration at the Te Papa Museum of New Zealand.  The events this year emphasised the empowerment of women and speaking out against violence on women and children, and against war.
The events were organised by the Wellington Women Walk for Peace founders and friends, including representatives from Soka Gakkai International of NZ.
As custodians of the Wellington Heritage Peace Walk, SGINZ organised the Peace Walk on Parliament grounds.  Deb Moran, Director of Policy at the Ministry of Women's Affairs launched the walk with about 150 members of the community. Tributes were paid to Kate Sheppard, New Zealand's most famous suffragette (by Barbara Arnold, President of the National Council of Women of New Zealand), and Sonja Davies, peace campaigner and member of parliament and long time friend of SGINZ (by Rosemary Barrington of the Sonja Davies Peace Award Trust). Other guests included Jan Logie, Green Party MP, and Rae Julian of UN Women New Zealand.
Mayor Celia Wade-Brown addressed the crowd at Civic Square and the walk was concluded by a powerful self-defence interactive session run by the Women's Self-Defence Network.
The Peace Celebration was held on the evening of the same day at the Te Papa Te Marae and was addressed by British High Commissioner Vicki Treadell. The evening was filled with performances and a silent auction raised money for Wellington Women's Refuge, Shakti of Wellington and the Daya Trust. Messages from the Rt Hon Helen Clark, Administrator for the United Nations Development Programme, and former UN Under-Secretary General and champion of the UN Decade for a Culture of Peace, Ambassador Anwarul K. Chowdhury, were later made available online athttp://www.www4peace.org.nz/.
"When I think of all the work, it all seemed like mission impossible but it became an incredible event. Our work towards peace is an ongoing walk and I am humbled by all of your work towards a culture of peace", noted Belinda Bonzon-Liu, co-founder of Wellington Women Walk for Peace.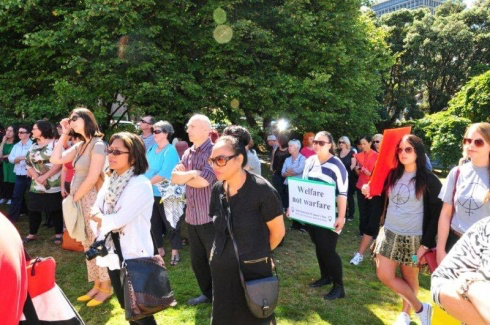 Other supporters of the events include The Human Rights Commission, Wellington City Council, the Centre of Applied Cross Cultural Research, Victoria University of Wellington, the National Council of Women of New Zealand, Filipino Artists in New Zealand, Inc., the Society for Southeast Asian Communities, Inc., Te Ngira: New Zealand Diversity Action Program, the United Nations Association of New Zealand, UNESCO, Shakti Community Council Inc., Daya Trust, Peace Movement Aotearoa, Women's Refuge New Zealand, Malaysian Wellington Postgraduates Leisure Club, the Women's Self-Defense Network, Muslim Women's Council and the Aotearoa Lawyers for Peace.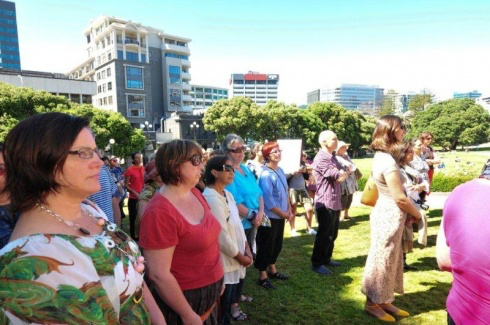 Photo's courtesy of Clark Figuracion.