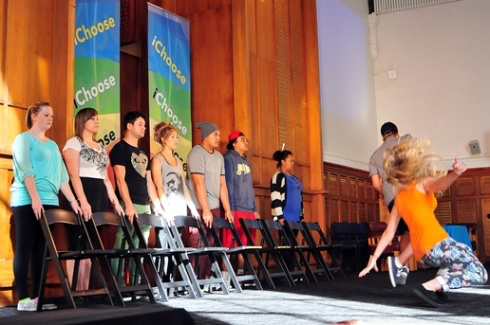 On 25 February 2013, the SGINZ-sponsored iChoose anti bullying programme was rolled out to Auckland high schools.
Debuting in front of Year 9 students at Mount Albert Grammar (High) School, one of the largest and most multicultural schools in New Zealand, the cast were warmly welcomed and given plenty of positive feedback from both students and teachers. The performance captivated the audience and kept them engaged throughout. The personal experiences shared by the cast resonated with students, many of whom left with a smile. And teachers were very appreciative of Yukie Oki, a Mount Albert teacher who had arranged for the program to come to her school.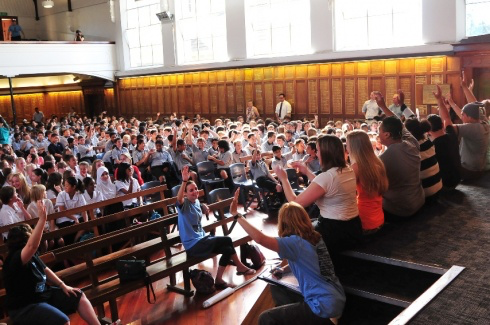 Later that day, iChoose was similarly well received at central Auckland's Dilworth School, an all-boys boarding school established in 1906. The humour combined with realistic scenarios identified key issues of violence. Later, through the workshops, students engaged on a more personal level with the cast and freely asked questions. One activity was based around giving and receiving complements. Students found complementing themselves and others a unique and refreshing experience. One boy said he found the exercise particularly uplifting. Toward the end of the workshop, a teacher shared his impression of iChoose and a quote he found profound and important. Another student stood up and recalled a quote by Gandhi used in the performance, which he felt was an essential point.
There can be little doubt that iChoose has had a great impact on students at both schools, providing food for thought and a better awareness of passive violence. It will be of value to follow up on these schools in a few months to see the changes that have occurred in terms of bullying and passive violence.
The many comments submitted by the students and other audience members include the following:
"Really informative and funny at the same time. I liked how everybody had their own real experiences, which made it really easy to relate to—how no matter what is happening, believe in yourself and you can push through." • (Sarah Gudsell)
"It was a great performance, it was great how it had a lot of meaning. I liked how they showed their own stories." • (Zak)
"I thought it was very good, and I think even though it did not relate to me, I know people who have been bullied can relate to the show. I liked the humor and the fact I could learn things. I learned how to respond to bullying and how to help people who have been bullied. " • (Anonymous)
"I liked how it had different perspectives and stories. I learned that you are not alone and to be kind to yourself and others." • (Jaimee)
"What an interesting way to teach as about passive violence. I learned that even though the actors have only been together for a week they are really open about very personal stuff and also open to sharing in front of an audience." • (Shannon)
"It was matched perfectly. Stories connected with the kids. Uses metaphors. I wish I had known it was such a powerful performance so I could have invited the student mediators." • (Paul Ferner, counselor)
"Just wanted to take the opportunity to say thank you to all the team from iChoose who visited Dilworth this week. We have had some wonderful feedback from the boys who really related to your cast and the messages that they delivered. Please pass on our appreciation to all involved and we would certainly be keen to be part of any future presentations from the ICAP organization. Kind regards" • (Neil Ritchie, Head of Senior Campus, Dilworth School).