11th Annual Friendship Concert Celebrates Peace Through Music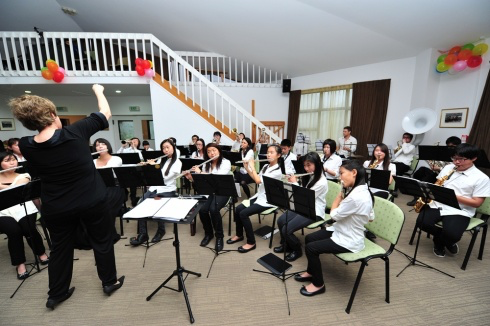 SGINZ Victorious March Band and Manukau Concert Band held their annual joint concert on a stormy Sunday afternoon on 16 June 2013. The howling wind and sheet rain did nothing to dampen the spirits of concert patrons who turned out in full force. And they were not disappointed for it was a musical odyssey traversing the globe; from music to an Albanian Dance to Puccini's Nessun Dorma and Williams' English Folk Song Suite, it was an uplifting journey not just across continents but through time.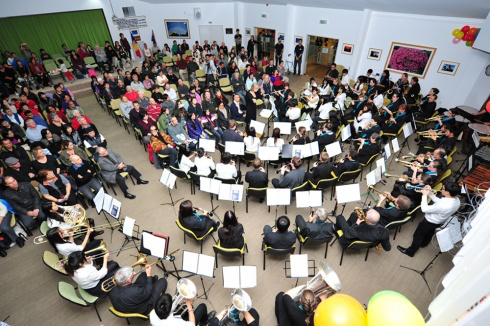 This is the 11th year in which the bands have collaborated. The event has become a highlight for both band members and concert-goers alike for it is not only a coming-together and exchange but an expression of commitment to the power of music. It is also a measure of the growth of the respective bands as they tackle traditional concert band repertoire and contemporary emerging works.
The concert is unique in that features players as young as ten and some who have only started their musical training a year ago. The conductors introduced each piece of music and took time to explain the background of the music as well as the band's own experience of it. The focus as mentioned is very much about the power of music to bring people of different creeds and backgrounds together so there was much talk about peace, harmony, friendship and joy. It was also a platform where they encouraged people to take on musical pursuits. And in keeping with tradition, the closing number was a joint performance and this year, they played Michael Jackson's Heal the World.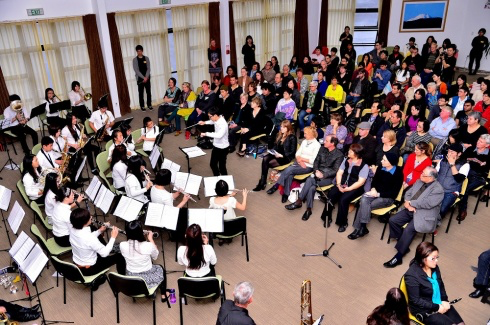 It was also a special day for Manukau Concert Band conductor Kathleen Mulligan. The 300 strong crowd chimed in to sing Happy Birthday and wish her well. The evening ended with speeches from both conductors, an exchange of souvenirs followed by delicious refreshments.
About the Bands
The Victorious March Band of the Soka Gakkai International New Zealand was established in 2000 by Daisaku Ikeda, the President of the Soka Gakkai International (SGI). It is a Buddhist network that actively promotes peace, culture and education through personal change and social contribution. President Daisaku Ikeda formed the Victorious March Band believing that cultural activities and exchange are an ideal way
The Manukau Concert Band is a community band with a membership of about 45 musicians. It has been a consistent recipient of Gold awards at the annual National Concert Bands Festival where it has been a regular participant since 1988. Recently they won a Gold award at the NZ Concert Band Association National Festival in Hamilton for 2012.