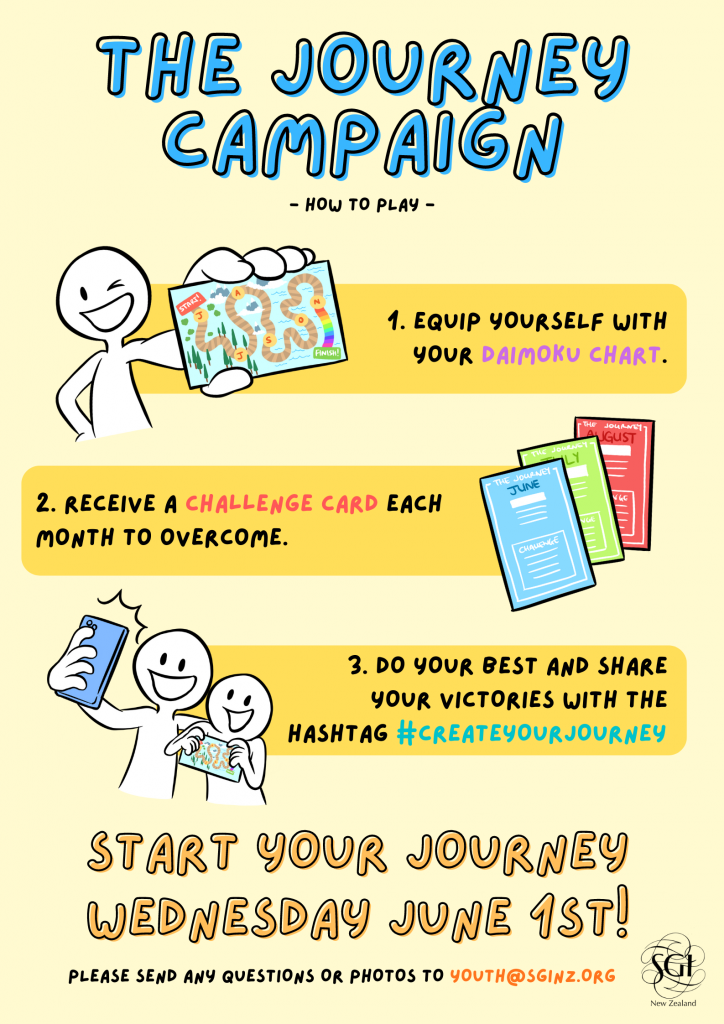 Traveler,

From whence do you come?

And where do you go?

The moon has set,

But the sun has not yet risen.

In the chaos of darkness before the dawn

Seeking the light,

I advance

To dispel the dark clouds from my mind

To find a great tree unbowed by the tempest

I emerge from the Earth.

– Daisaku Ikeda
Kia ora,
Life is a journey that must be travelled no matter how bad the roads and weather conditions. You ask if it's worth the effort, and we say absolutely! As members of the SGINZ Youth Group, we are both protagonists of our own journey and companions to others towards arriving at our final milestone for the year – November 18 – the Soka Gakkai Foundation Day!
We are here to make this journey fun, exciting, memorable, and value-creating!
Starting June 1st, we'll present you with a challenge each month. Take these as road signs to confirm you're on the right track. But like any trip, there will be opportunities to take a detour and experience a path you've never set foot on before.
Crucially, do not forget to pack your 'never give up spirit' in the travel bag! This single item is most important to arriving at the destination victorious. Nichiren Daishonin says, "The journey from Kamakura to Kyoto takes twelve days. If you travel for eleven but stop with only one day remaining, how can you admire the moon over the capital?" (WND 1, p.1027)
What awaits you at your final destination? Together, let the journey begin! Nam myoho renge kyo!
Please share your journey on your instagram by tagging #createyourjourney OR send your photos to youth@sginz.org 🙂
Please follow on our SGINZ Youth instagram for everyone's journey! instagram.com/wavesofhopenz
Daimoku Chart
June Challenge
July Challenge
August Challenge
September Challenge